HIGHLIGHTS 
Rafting on the emerald green Soča River

 
Hiking to unspoiled corners of Slovenia

 

Test your adrenaline skills at skydiving

 

Soak in the city night vibe in Ljubljana

 
Make the best out of any 4 days, filled with the ultimate dose of adrenaline and excitement. Each day serves with a better and more active experience, all of them taking place in an idyllic natural setting of Slovenia's unspoiled valleys, caves, canyons and waterfalls.  
The Slovenian Adrenaline Tour itinerary covers Ljubljana and its main attractions, with a more active twist. The capital can be discovered by various means of transport – on foot, bikes, funicular, boats and even SUP boards.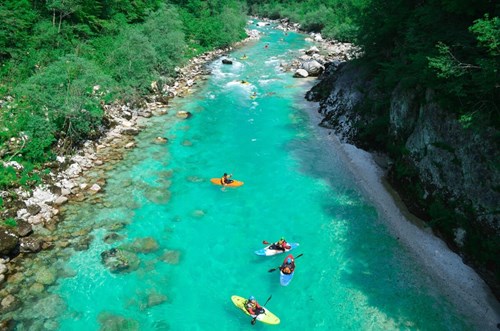 Heading towards Mt. Vrsic towards north-west offers the opportunity to explore one of the most scenic river valleys worldwide – the Soca River Valley. Land in the beautiful Trenta valley in Bovec, a natural monument, known for the emerald green alpine Soca River and the Slovenian extreme sports center.  
Continue your adventure in Bled, Bohinj and Vintgar Gorge – all of them among the best-known natural landmarks of the Alpine world. Last but not least, there is no better way to absorb the Slovenian landscape other than from above - the ultimate adrenaline rush - jumping from a plane and feel the ultimate rush before heading home.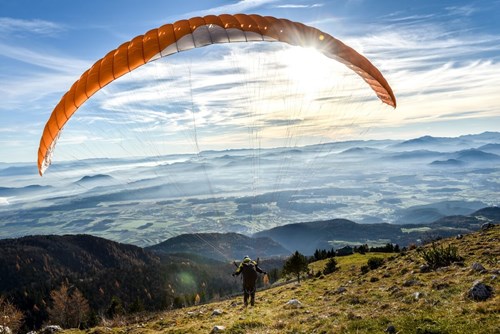 GOOD TO KNOW 
Don't miss tips and hints on how to be well prepared and informed about what to expect during the Slovenian Adrenaline Tour. Check tips below: 
1. Be your own boss 
Private tours give you the freedom to tailor up your own schedules & itineraries. The tour description serves as an example of how much can be covered in the 4 days at your disposal. Final arrangements are totally up to your selection. 
2. Comfortable clothes, shoes & swimsuit 
Wear comfortable clothes and shoes. Dress in layers as you will move from mountains to valley in no time. Don't forget to bring along the swimsuit, towel (all safety equipment is provided at sports centers directly).  
3. Safety first 
Rafting, canyoning and skydiving depend on weather conditions. In case of bad weather or any other extraordinary circumstances that would affect guests' safety, these activities might not be possible. We always check the situation a day before or the same morning of the planned event.  
Contact us for any questions and assistance with arranging your package - we'll be happy to help.
Hope to see you in Slovenia soon!